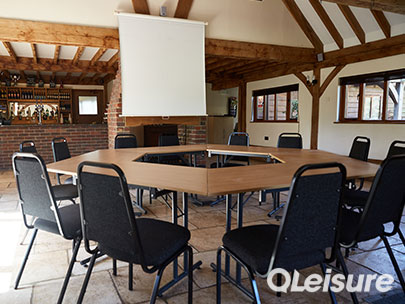 Don't let the business side of your away day become the boring side, check out our facilities and see how we can help put a dynamic approach back into 'meetings'.
Our stunning conference room is a fresh break from the 'norm', with beautiful oak beams on show throughout and a high ceiling to create a spacious, calm and relaxed meeting environment.
The meeting room is attached to the bar inside our Oak Barn, all of this area is exclusive during your team meeting. The only interruption will be a friendly face serving you tea, coffee or snacks.
The main room is equipped with a Projector and Screen, WIFI, plenty of power outlets and Flip Charts. If you require anything else then please just let us know and we will source this for you.
We can offer a mixture of meeting styles Including Theatre, Classroom, and Boardroom, just let us know which suits your requirements the best. Refreshments are included in most of our packages and we also have options to upgrade so make sure you ask for all available options when you enquire.