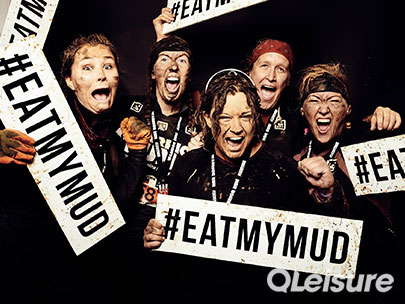 Warrior Run, 1 of the toughest obstacle, mud and adventure runs in the south of England is held at Qleisure. Our team built the course 4 years ago and it has gone from strength to strength ever since.
The course is made up of over 65 obstacles and it covers 7km in distance, you can choose whether you'd like to run 1, 2 or 3 laps. As well as plenty of man made obstacles the course will take you through the local countryside including streams, hills, muddy pits and woodland. This is a serious test of strength stamina and agility.
The run is on twice a year and spaces do fill fast so if you would be interested in booking a corporate wave or large team then please contact us and we can help arrange this with you.
For more information including videos, photos and FAQ's please visit our designated website www.warrior-run.co.uk
We look forward to seeing you in the mud!
Get a quote
Buy gift vouchers
View all activities
Super Early Bird - £36.50
Early Bird - £40.00
Morning Worm - £46.00
The Tortoise - £49.50
The Sleeping Hare - £54.00
All prices are inclusive of VAT but subject to an administration charge which is a percentage of the total amount. This will be shown to you before you pay.
Brighton Warrior Run Packages
View our Brighton Warrior Run packages or create your own
Create your own package
This section allows you to build your own activity package. This means you can choose the activities which suit your exact requirements. Just fill in the fields, let us know your budget, click the send button and we will get back to you with availability, price and package information.
Book Now
Activity FAQs
Is there a trophy?
You can upgrade your activity to include an individual or set of trophies, please confirm this when making your booking.
Are deposits refundable?
All deposits are non refundable. All payments are non refundable from 28 days prior to your event date.