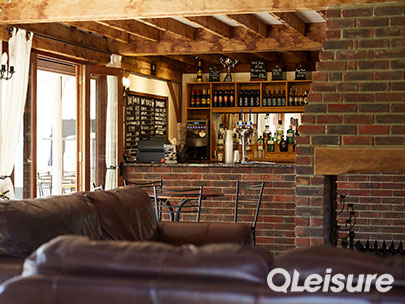 A fully licensed bar and restaurant is available for lunches, meetings and evening functions. The bar is also open on activity days unless stated otherwise.
You will find the bar stocked with the finest selection of alcoholic beverages including local bitters, wines, craft ale, spirits, prosecco and the gorgeous Curious Brew Lager and IPA on tap. Everything you need to get the party started before heading into town.
The Bar and Restaurant is set inside of our Oak Barn and sits right on the edge of the pond and garden patio. You'll find a laid-back and friendly atmosphere – it's the ideal place for a couple of drinks after your activities. There is a large marquee attached to the bar for larger groups if needed.
We have delicious Pizzas, Burgers, Hot Dogs and Bacon Rolls available as well as a full range of flexible professional catering, everything from three-course meals to hot and cold finger buffets, light snacks and beverages.
Our delicious BBQ is available with a private outside area next to the pond. BBQ Menu is available throughout the summer months, this must be booked in advance unless we have stated the BBQ is available.
Our menus cater for all types of event, but if you want something a little out of the ordinary then just let us know. We love to build bespoke events and this usually includes a funky catering option.
All of our food and drink lists are available on email, please call a member of staff for any further information on catering and we will be happy to discuss all of the options.